Panasonic PT-RZ970 DLP 10k Lumen Laser Projector Hire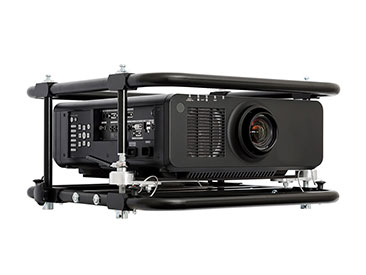 Panasonic PT-RZ970 DLP 10k Lumen Laser Projector
New to BES hire stock,Panasonic PT-RZ970 DLP 10k lumen laser projectors with a range of Panasonic lenses.
With incredibly sharp picture quality and practical features such as low maintenance and vivid colour performance, the PT-RZ970 is perfect in many different applications, and especially suitable for live events.
Powered by the Solid Shine laser drive and Panasonic 1-Chip DLP technology the PT-RZ970 also features dust resistant optics and a quick start up and turn off feature.
Main features:
Ultra-high brightness 10,000 lumens
High contrast ratio of 10000:1
WUXGA resolution of 1920 x 1200, suitable for 16:10 and 16:9 use.
Range of inputs including DVI, SDI, HD-SDI, HDMI, VGA
Extensive lens suite
Lens shift and digital keystone correction capability
Power consumption 5amps and 240v.
Supplied in flightcase with choice of lenses, flying frame and truss clamp.
Please contact us for a quote and to find out about our special introductory offers.