Our work
See No Evil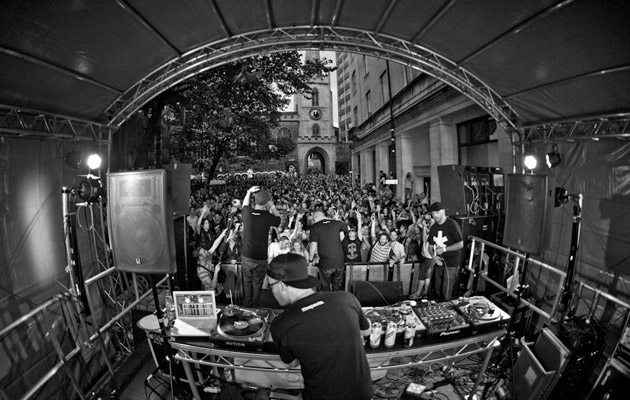 With our experience of city centre events, BES were approached to see if would be possible to produce a groundbreaking new urban art event on a street in central Bristol, that not only bordered Bristol's main shopping area, but was also one of the main central bus routes. The problems were numerous, with both time and space constraints to minimise disruption, and nothing of its kind had been attempted before.
After multiple meetings and site visits over many months, we decided on a strategy that we thought would work, with power to traders and bars, and both outdoor music stages built and sound checking within the short 5 hour build window. The inaugural See No Evil event became an instant success with an estimated 30,000 visitors, and with worldwide press coverage and rave reviews, put Bristol firmly on the map as one of the street art capitals of the world.
The team built on the momentum of the 1st years event and the following year came back to us with an even more ambitious plan, with more outdoor stages and an planned visitor numbers in excess of 40,000 over the weekend. With a similar short build window to minimise disruption in this busy part of Bristol, we briefed our team of highly skilled crew and had all 5 stages open on schedule, with the 5 discreetly placed generators also providing power to all the on site bars and traders. The event was another huge success, with visitor numbers far exceeding the estimates with figures of 50,000 over the weekend suggested.
To kick off the weekend of events, The Watershed, supported by The Arts Council, curated a special one off show 'Mail, Maps and Motion' in Brunels grade 1 listed Passenger Shed at Temple Meads.
BES were brought in to provide power and structures for this unique event, on a scale not seen in Bristol before. We arranged and coordinated the building of one of the largest truss ground supports attempted in Bristol to hang the 3 enormous projection screens, for the cutting edge audio visual show, as well as a large stage for the orchestra, which in a building of such historical significance was no mean feat.